Shown above is an aerial photo taken by Gordon Sayle from the City of Vancouver Archives (https://searcharchives.vancouver.ca/nst-5522). It shows the eastern portion of Strathcona looking north from Prior between Jackson and Gore. In the lower right is the building at 823 Jackson Avenue.
The photo is not dated other than 1970s, but is believed to have been taken between 1972 and 1976. The left side of the photo shows that the viaduct on-ramps had already been built in the block previously known as Hogan's Alley. On the right side of the photo the building at 823 Jackson. During this time the building was owned by Annie Girard and operating as the Fountain Chapel as a non-denominational church. Annie and her husband Pierre were living in the building and owned a bus that they used to travel across Canada. Shown below is a blow up of the right corner of the photo showing building and the bus parked next to the church and the empty lot to the south, which was owned by the City of Vancouver between 1959 and 1977 and was purchased by Annie Girard in 1977 and combined with 823 Jackson into the single lot it is today.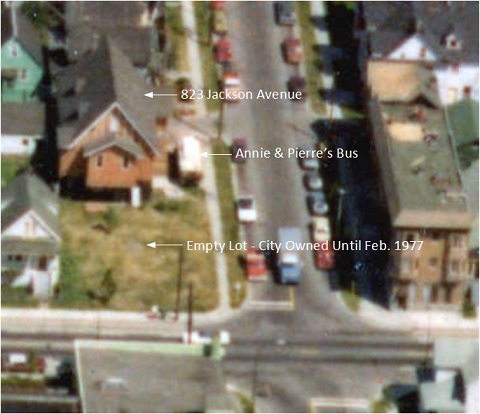 It turns out that the property was originally two separate lots split in the other direction (east/west) as are the other lots on the block. In 1891 the two lots were purchased by Swan G. Hoffard from The Vancouver Improvement Company Limited. In 1984 the two lots were split in the north/south direction with separate titles for each half, to make room for the The First Scandinavian Lutheran Church, which was the first church built on the north lot, before the current building.